Samsung to unveil the Galaxy Note 7 Edge?
According to rumors, Samsung will introduce the Galaxy Note 7 Edge at Galaxy Unpacked 2016 event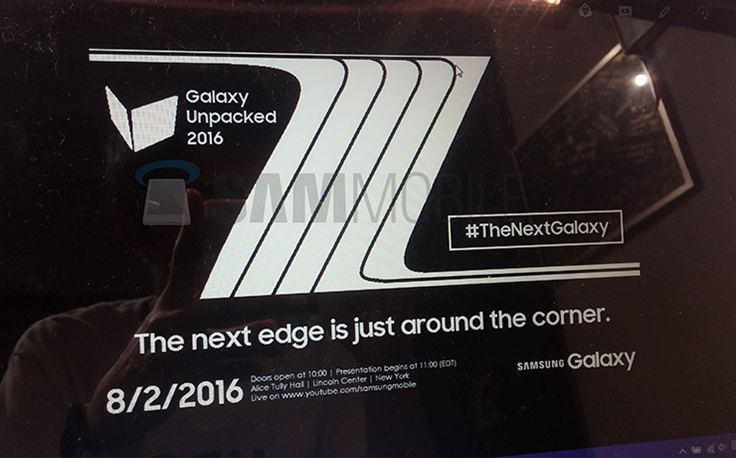 From the first Note models Samsung popularized large diagonal screen phones, which were very well accepted by users. We are now awaiting the arrival of the sixth generation of the popular Samsung phablet (a combination of mobile phones and tablets). So here's what the rumors say
Here comes the sixth generation of the popular Samsung phablets
We saw a lot of rumors about the upcoming device in the Galaxy series, including those who say that this will be the Galaxy Note 7. New rumors suggest that the Galaxy Note 7 with the edge screen will be be presented at the next Samsung Galaxy Unpacked event 2016, August 2nd in Alice Tully Hall, Lincoln Center in New York.
As you can see in the image, five curved lines might be pointing towards "7" the Galaxy Note7′s name and "The next edge is just around the corner" phrase
Snapdragon 823 / Exynos SoC chipset, IP68 - c
ertified water-resistant body
, USB Type-C, 5.8 - inch QHD display
suggests that it could be the Galaxy Note7 edge. The upcoming flagship is rumored to feature a 5.8-inch QHD curved edge display, a Snapdragon 823 SoC or an equivalent Exynos chipset, an iris scanner, IP68-certified water-resistant body, a USB Type-C port (reversible-plug connector for USB devices and USB cabling that is compatible with the ultra fast USB 3.1 a protocol that allows super fast data transmission of 10Gb per second, which is twice faster than existing USB 3.0 protocol and 20 times faster than the original USB specification) and a 4,000 mAh battery. Also, Galaxy Note 7 would come with a BlackBerry Hub-like Samsung Focus app for enhanced productivity.
.
More about Samsung.