The best 5 used smartphones (2016/2017)
We picked the best used smartphones, up to two years old, that you can buy on the market nowadays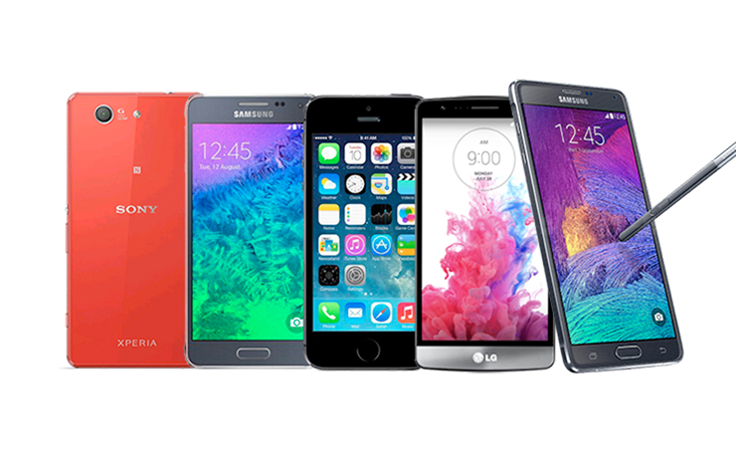 Many of us want to have the best smartphone, but some can't afford it and all. One option is to purchase used top model, that was popular two years ago. All smartphones on this list have slightly thicker profile, in comparison with the latest models. Also, their batteries most likely do not work as well at the beginning, so it is advisableable to include the cost of a new battery in the price.
Samsung Galaxy Note 4
Samsung, which has practically invented the category phablet (smartphones with increased screen diagonal) didn't get glorified with the sixth generation of the device (Note 7), which battery exploded so often, that the Korean giant had to withdraw it from the market. But don't worry. The fourth generation has no problem with the explosions. It's quality, a bit thicker and larger device with a 5.7-inch screen. It looks better in dark varieties than in white. If you are looking for a bigger screen diagonal with a stronger chipset, this is the best choice among the used smartphones.
Price of used Note 4 is moving around $210.
LINK: Note 4 specs & price

.
Sony Xperia Z3 Compact
Sony had many famous and high-quality models, but lately, there's rarely a model which stands out like Z3 Compact stood few years ago. When it was a new model, it could endure for two days with a single battery charge. Today it has no reference display quality that other models from this list offer (colors are washed out), but it has excellent cameras, and overall it's a very complete device. If you are a fan of Sony, or simply prefer a smaller and more compact models, this 4.6-inch gadget is probably the best choice among the used devices. Be aware of the side jack covers (they can be worn out), and consider that perhaps it should be better to buy a new battery.
Price of used Z3 Compact is moving between $220 and $300.
LINK: Z3 Compact specs & price

.
Samsung Galaxy Alpha
When we've got the Galaxy Alpha for the first time, we immediately saw that this is an extraordinary device. With only 6,7-mm profile it's incredibly thin, even for today's terms. It has a phenomenal 4.7-inch AMOLED display and advanced Exynos 5430 chipset. The disadvantage is that there is no microSD memory cards slot, but we believe that the 32GB of internal memory is more than sufficient. Also, the built-in battery has low capacity and will not last long. It's replaceable under, so it's obliged to buy a new one. This device is our biggest favorite on this list!
Price of used Galaxy Alpha is around $120-$180.
LINK: Galaxy Alpha specs & price

.
Apple iPhone 5S
Although the iPhone 5S is replaced with the iPhone SE model, you might still might find some residual iPhone 5S in shops, at a price of around $120. A lot of money considering that it is three years old model! But, Apple always kept high prices when it comes to used models. Be sure to check how much it's preserved, and did it was used with a case or mask. The battery is perhaps the biggest problem, so a new one should be purchased.
Price of used iPhone 5S is about $120, and you can find some new ones in stores for about $200-$220.
LINK: iPhone 5S specs & price

.
LG G3S (Beat, D722)
Very favorable since the beginning of its sale, the younger brother of greater LG G3 is called the LG G3S (a.k.a. Beat, or D772). It has a 5-inch IPS display packed in a very attractive, slim and beautifully curved body. The battery is replaceable, and we didn't see any bigger flaws. LG has a pretty good finishing of Android OS, and everything should work satisfactorily quickly.
Price of used G3S model is around $120, and this is the best choice for a small amount of money.
LINK: G3S review | G3S specs & price

.
More about smartphone.
>> The best smartphones we've tested in 2016