What brings new Samsung Galaxy S8? That's the question which bothers lovers of Samsung's smartphones worldwide. So far, hundreds of rumors about the design and capabilities of this smartphone turned up, and it has yet to see the light of the day. We bring you the most important, but also most likely features of this new flagship.
Date of release and price
We'll go right in the head. Samsung broke the tradition of presenting its flagship at the Mobile World Congress in Barcelona. So the new S8 will not come at the end of February, as usually was speculated. Samsung itself has announced it won't happen in "the appointed time", and the most common dates mentioned are March 29 and April 21. The last Wednesday of March should be marked with Samsung's introduction of this model, but the April 21 is the date of releasing on the market.
Update Feb 14: In the meantime, these two terms has become the only options discussed, so we can say that these are almost certain news.
Update Mar 8: Samsung has confirmed at MWC that will present the new Galaxy S8 and S8+ on March 29 in New York . April 10 is mentioned as the first day of pre-sale, and the devices should arrive in stores on April 21, or, according to the latest rumors, on April 28. In any case, we will meet May with a new flagships in stores.
These devices should come in large numbers. There are speculations in Korea that Samsung is going to produce and send to market as many as 12 million units by the end of April. However, it is not known to what proportion the S8 and S8+ will be represented, but at least we know why Samsung has reserved all stocks of Snapdragon 835 chipset.
Galaxy S8 will surely come on the market a month after the expected date
There is speculation with some dates in the above mentioned period, but in any case, that's the time when we will see a new Samsung smartphone at work. The reason for this delay is, most likely, an accident with Note 7, which the South Korean manufacturer can afford anymore, especially with the most popular model. An additional month should be enough to solve any possible problems.
The price will be high. Higher than on the S7. To purchase Galaxy S8 should have already start saving your money, because it should cost about $850. It is speculated that there will be a larger version, and how much will it cost, only people from Samsung know.
Update Feb 14: There will be a larger version, which will be called S8+. Samsung has decided to dispense with the term Edge, because of too small differences in design.
Update Mar 23: Alleged price ofboth devices have appeared. So, the Galaxy S8 will cost $859, and the S8+ will cost $966.
.
Design
The S8 continues where the S6 and S7 have stopped. That means curved screen and edges, the housing of metal and glass, with a few small but significant changes. First of all, it is rumored it'll dismiss the physical Home button, which may put the fingerprint sensor to the rear side of the device. However, it should be located next to the camera, which is unusual, but the logical move in any case.
Minimalist edges around the screen should be a new design feature
Specifically, it is expected that diagonal of the S8's screen should amount to 5.8 and 6.2 inches, which would be awkward to handle, especially for catching fingerprint sensor located in the middle of the rear cover, as usual. Well, this could be resolved with somewhat stronger curving the edges. In addition, the flagship should be resistant to dust and water, according to IP 68 standard, which is great.
Update Mar 8: Galaxy S8 will have an USB-C port on the bottom, and on above the screen the front camera sensor that will serve as a iris scanner, which is a new form of "unlocking" of mobile phones. There is also a video with the factory model, which clearly shows what are we talking about.
Update Mar 23: The Galaxy S8 should come in three colors: black sky, orchid gray, and arctic silver.
.
Chipset and system
We already know that Samsung picked up all the latest Snapdragon 835 chipset, in order to launch the S8. This chipset should be fairly fast, with 3.2 GHz of clock speed. But, not everyone will not be that lucky, because in some markets (supposedly, at all except US) S8 come with Exynos 8895 processor and "only" 3 GHz. The good news is that both processors will be optimized to work with low power consumption, and image processing could be up to 70 percent faster.
We do not know how big RAM would be, nor which OS the S8 would have
Speaking of graphics, some interesting names are mentioned as producers of GPU. It is speculated that nVidia and AMD could deliver graphical components, which certainly sounds incredible. But, in any case, it should be ready for VR options.
The RAM memory is highly questionable. At first, 6 GB are mentioned, then 4 GB, and finally, Samsung has introduced memory chip with 8 GB in the autumn, and it's really hard to expect anything concrete on this issue. Also, we do not know which OS will be in charge for all features of the S8. Android Nougat would be logical choice, but previously the combined OS was mentioned.
Update Mar 14: An information appeared that the Snapdragon 835 will be used for devices intended for the markets in the United States, Japan and China, while others will use the Exynos 8895. The devices for shipping in Korea and China will have 6 GB of RAM, and all the others will have only 4 GB. Batteries should have a capacity of 3000 mAh (on the S8) and 3500 mAh (on the S8+).
.
Screen and camera
We have mentioned the screen size should be 5.8 or 6.2 inches, which S8 slowly turns into a mini-tablet. However, the device itself should not be more massive, because it almost will not have bezels around the screen. Even a Samsung logo should disappear from the front and cede its place to the screen. In addition, higher aspect ratio (18.5:9), and the possibility of displaying 4K, or, at least, a Quad HD resolution (2560x1440p) are expected. Of course, there were all kinds of stories here, like the speculation about the new materials that would allow setting fingerprint sensor inside the screen. Well, let's stick to the probable; there will be no version with flat screen.
Update Mar 8: Both models will have a curved screen (as it previously had the Edge version), which Samsung branded as Infinity Display. The screen should have the Always On technology, which means it's activated with the slightest movement of device, without the need to unlock it.
Update Mar 14: The screens on both variants might have OLED technology, and WQHD+ resolution (2960x2400p).
The screens will be imposing a diagonals of 5.8 and 6.2 inches
Speaking about the camera, the rear one will have only 12 MP, but it is not the most important thing in photography, so do not let that deter you. Specifically, it will have f/1.7 aperture and software for post-processing. There were some speculation about double rear camera, but it appears not to be an option, although Samsung is developing the technology of double camera. There will be the Smart Glow feature, or ring of LEDs, which lights up in different colors when getting notification or shooting selfies.
The front camera will have 8 MP, autofocus, and image will be more quality. This means that there will be no more those distortions, which appeared on the wide-angle front camera of previous models.
Update Mar 23: The Galaxy S8 should have the ability to capture video at 1000 fps, or 33x super slow-motion, which is similar to Sony. Alongside the front camera an additional photosensor, that would serve for iris scanning, should be installed. Dual camera definitely will not appear on this device.
.
Other features
We really have everything in here. The S8 will be the first Samsung device that will have a virtual assistant named Bixby or Kestra. The productivity will be also increased, thanks to the possibility of merging with the desktop monitor. The S8 would, like the iPhone, should lose a headphone jack (not certain), but it could get the iris scanner.
Virtual Assistant is the only confirmed feature
On the device, also might appear dual stereo speaker, manufactured by Harman, and stylus pen as an extra option. Memory should jump to 256 GB, although the most likely options are 64 and 128 GB. In any case, it will be interesting to follow further information about Galaxy S8, on which we will continue to report.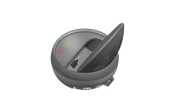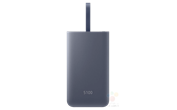 Update Mar 23: The virtual assistant named Bixby has already been presented. At the first moment, it will serve on the Galaxy S8, and then on the future Samsung devices. In addition, there was a series of photos of other products accompanied to the smartphone, so we know that a 5100 mAh power bank without fast charging option will arrive in shops, alongside with DeX Station which has 2xUSB 2.0 and HDMI connectors, cooling system for smartphone, and a Galaxy Desktop function. Reportedly, it will sell for around $200.
.
More about Samsung.
Komentari (0)
Pročitano (814)