Which smartphone chipset to choose and which processor is the best
The brains of smart devices determine how quickly apps and games will work on your mobile phone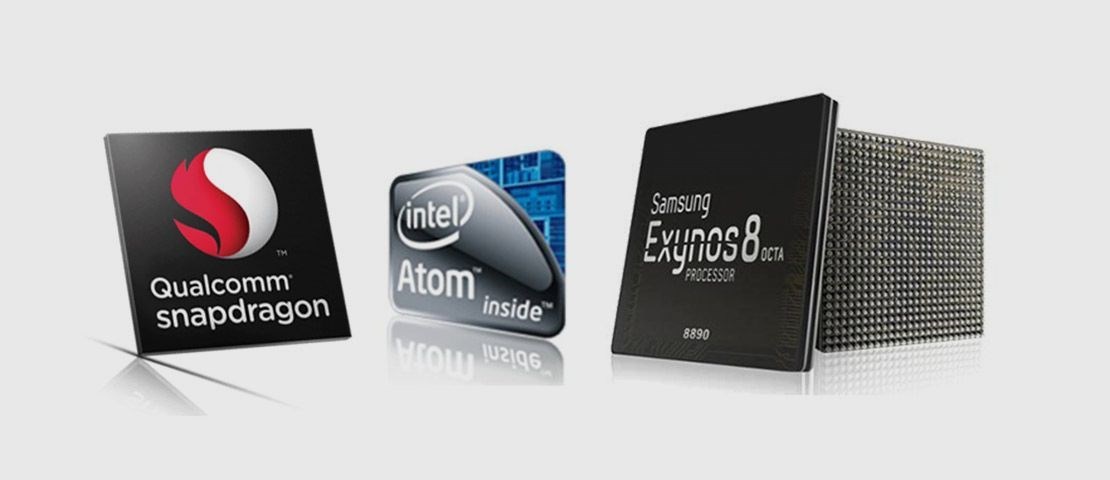 In this topic, you can find out more about the chipsets and technical bases that are found in today's smartphones. As the offer is huge, we will try to explain the basic concepts to help you to decide what to buy, and what to avoid.
The best-known chip-makers for smartphones are Qualcomm and MediaTek while Samsung, Apple and Huawei make chips for their own use. The world's largest chip-maker Intel in the mobile segment did not have success, and the reason is that the ARM architecture is better suited for mobile than Intel's x86. Qualcomm and Samsung based its SoC's (system-on-a-chip) on the ARM architecture that is primarily designed for low power consumption. Each core or GPU system is also designed to match the extremely narrow terminal frame.
Very important part of every SoC is a graphics processor or GPU. There are 3 main constructors - ARM, Qualcomm and Imagination. ARM's graphics processors are called Mali, such as Mali-T880 MP12 on Exynos 8890 chipset in the Samsung Galaxy S7. Qualcomm GPUs are called Adreno, like Adreno 530 Snapdragon 820 chip in the LG G5. Imagination products PowerVR graphics chips we can find in the iPhone models.
In the contrary, ARM pushes big.LITTLE technology. The idea is that the cores aren't all the same, but the processor has been divided into clusters, of which one part works for high performance, while others work for low power consumption. When tasks on the device use LITTLE core, they use less power and thus save the battery life, but at the same time work slowly. When the big cores are drivers, tasks are carried out quickly and smoothly, but with consuming more battery power. It also called HMP (Heterogeneous Multi-processing).
.
The lowest chipset segment
Devices with these chipsets costs around $150
The lowest segment of the chipset or the cheapest devices typically cost around $150 or below. They usually run MediaTek SoC's with MT6753 symbol. These are components that are extremely cheap in production, especially on older manufacturing plants that would otherwise be unused. These are chips with ARM's 64-bit architecture and eight Cortex-A53 cores that make the processor. They are made by the outdated 28 nm manufacturing process, so they have high energy consumption, but since they do not operate at high frequencies (1.3 to 1.5 GHz), they don't overheat and work well enough for the best devices.
We tested the Lenovo Vibe K5 which uses this SoC.
.
Lower mid-range chipsets
Mid-range costs up to $350
The lower middle class are generally devices with Snapdragon 410 chipset. Such devices price range starts from over $150 to a maximum of $350. This chipset is also built on 28 nm process, but supports new technologies. It may use 2 SIM cards on the 4G network category 4, connect to an external display up to HD 720p resolution, or use NFC and GLONASS. Cameras on devices with Snapdragon 410 have up to 13 MP and graphics chip Adreno 306 which offers sufficient performance for less demanding games.
This chipset can be found on the LG G4C and Galaxy J5 (2016).
.
Mid-range of chipsets
You can't make any mistakes with high mid-range
The mid-range mainly covers Snapdragon 650, which is built on better 28nm HPm process. It has a similar layout as last year's best processors Snapdragon 808 and 810. It is a hexa-core processor with two Cortex A-72 cores at 1.8 GHz designed for excellent performance, and four A53 cores for low power consumption. The new generation GPU, Adreno 510 supports resolutions up to 2560x1600 pixels (2K). There is also LTE connectivity category 7, Bluetooth v4.1 and WiFi 802.11ac.
Sony Xperia X and Xperia X Compact use the named chip.
High mid-range of chipsets
Only last years' Apple A9 chip belongs to this range
Apple A9 chip is the first of named chips that uses custom architecture (two cores specifically designed and built for Apple). It's made by two factories, Samsung on 14nm process and TSMC on 16 nm. Two Twister cores at 1.85 GHz offer excellent performance for the Apple iOS system. The graphics chip (GPU) is Imagination's PowerVR GT7600 which offers excellent graphics capabilities even in demanding games. This SoC also consists a coprocessor M9 which provides extra power for smooth motion, accelerometers, gyroscopes, and interactions with Siri. NVMe controller is especially designed for connecting internal memory, and has the same structure as SSDs on computers.
As a high middle rank, we can mention Apple A9 chip, which is located in the iPhone SE.
.
The best, most expensive and most advanced chipsets
The only problem with the best chpsets can be overheating of device
Flagship devices offer the best of the best. Qualcomm's Snapdragon 820 chipset offers the best of the factory this year. It is made by the 14nm manufacturing process and offers low power consumption, and combined with four custom "Kryo" cores at 2.15 GHz offers excellent performance. In addition to the processor, Adreno 530 GPU is designed for the most difficult graphic tasks and Hexagon 680 DSP is made for audio processing. Standard connectivity completes LTE category 12/13 (up to 600/150 Mbps of real throughput) and 802.11ad WiFi standard (to 7Gbps).
Devices that use this SoC are LG G5, HTC 10, Xperia X Performance, Xperia XZ and an American variant of the Galaxy S7. A few days ago, for the first time in the device (Google Pixel/Pixel XL) is presented Snapdragon 821, offering more frequencies of the CPU and GPU.
Samsung's in-house Exynos 8890 chipset represents the top of their 2016 offer. Built on 14 nm manufacturing process with eight cores, of which are four M1 Mongoose custom cores designed for performance, that can operate at frequencies up to 2.6 GHz and four ARM's A53 for low power consumption. For superb graphics Mali-T880 GPU MP12 is in charge. Like the SD820, it offers LTE category 12/13 (up to 600/150 Mbps of real throughput).
This SoC can be found in the Samsung Galaxy S7 twins and Note7.
The current Apple SoC A10 Fusion custom chipset is also one of the top deals. It is a quad-core 64-bit CPU architecture similar to ARM's big.LITTLE, or two cores for exceptional energy efficiency (available only to the system) and the other two work at 2.34 GHz using the apps for demanding tasks. Apple claims that the chipset is 50% faster than its predecessor, A9, and thereby uses only 2/3 of the electric current amount. It was made on 16 nm process and has a PowerVR GPU's, but it's not exactly clear yet which one.
Apple SoC A10 Fusion debuted in iPhone 7/7 Plus duo.
.
Be careful while buying
For smartphones that were presented in 2016, or will be released in early 2017, there is no chipsets with which you could go wrong, because the choice really depends on the budget (every SoC provides certain specifications depending on the class to which it belongs). It's the completely opposite of 2015, when the Snapdragon 810, which is located in this year's flagships had big problems with overheating. Manufacturers resolved it with software slowing down the work (throttling at Sony Xperia Z5, Z5 compact, LG Flex2, Nokia Lumia 950 XL and HTC One M9, which is metallic, so excess heat really makes a difference). Another method is to take another chip (Snapdragon 808 in LG V10 and LG G4) which proved to be better in speed tests, even though the specifications are weaker (less core, lower frequency, lower GPU) due to better thermal properties. Most manufacturers decide just for Qualcomm SoC's, because of good reputation and quality, so in the lower class 410 is usually found. In the middle range it's a Snapdragon 650, while in the highest it's Snapdragon 820. The cheapest devices still use Mediatek MTK chips which remain back on each terms, but offer the cheapest production and thus the price for the final user. Apple, of course always, used its own solution, so there is no some excessive choice (A9 on iPhone SE/6s/6s+ or A10 on iPhone 7/7+).
.
More about chipset.